Are you struggling to find skilled construction talent due to the workforce shortage in the trades?  At WorldBridge we work with small to mid-sized commercial, industrial and residential construction companies, nationally, to go beyond seeking the basic pool of candidates.  With over two decades of specializing in the construction industry we tap our extensive database of the most skilled talent in your industry to bring you impact players who can meet the needs of the changing construction industry landscape.
Construction Company Functions We Place:
C-suite, Directors, Vice Presidents, Project Executives, Senior Project Managers, Project Managers, Superintendents, Estimators
The Industry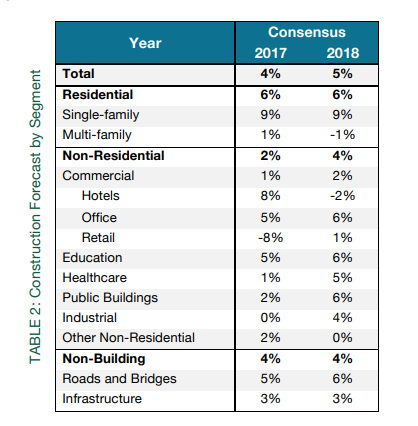 After a robust 2017, construction is expected to grow almost 5% in 2018, a bit higher than in 2017.  This growth is slightly higher than the expected growth for 2017 (4%).  There are a number of trends shaping the construction industry such as offsite construction, an increase reliance on technology, revolving policy around state and federal policies and the ongoing labor shortage.  Another top trend is building for resiliency. After the onslaught of hurricanes, heat waves, flooding, tornadoes and wildfires last year, the Trump Administration declared November 2017 as Critical Infrastructure Security and Resilience Month.  This proclamation highlights how important it is to keep vital infrastructure up and running no matter the weather or other extreme conditions.
Last year saw the addition of new high-tech campus facilities for Google and Apple, as well as the announcement of 2018 plans for Amazon's second new North American headquarters and Microsoft's multi-billion dollar redevelopment.  Additionally 3-D printing technology for such innovative projects as these demands more IT services and skills.
However, there is a shortage on skilled craft workers which may affect the ability to design and build the necessary infrastructure.  Associated General Contractors of America reported in December that employment increased to its highest level since the same time in 2008, but has resulted in a smaller pool of candidates.  After what will likely be 3% increase in costs in 2017, overall construction costs are forecasted to increase an additional 2-3% in 2018. These increases will be primarily led by increased construction labor costs, which are forecasted to increase in the 3-4% range in 2018.  Labor shortages continue to be a challenge for the industry due to the inability to recruit the younger generation, lack of skilled labor, and stricter government policies around immigration. While companies are investing in training programs and supporting legislative reform, raising wages is the immediate lever to satisfy their current labor demands.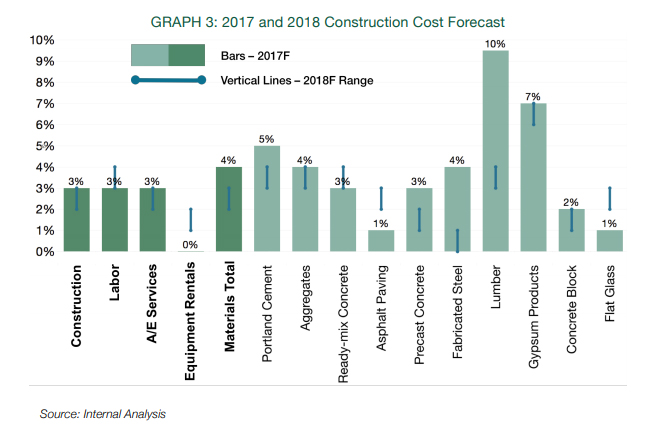 References:
Construction Dive, "8 Construction Trends to Watch in 2018", Jan 8, 2018
Old Castle, "North American Construction Forecast Report, Oct 2017