Why do Employers Choose WorldBridge Partners Chicago NW?
Let's be honest, in this robust economy, you want to expand and hire top talent, but they don't exist! With unemployment at a 49-year low, and more opening that there are unemployed people, it's a candidate driven market. You are going to have to locate, evaluate and recruit from your competition, or companies you admire, and you can't do that yourself. One way your business can grow and secure the future is to invest in a quality recruiter that has the experience in your industry and technology to mine top talent quickly.
That's where WorldBridge Partners Chicago NW comes in.  We understand that great employees are long term investments in your enterprise. As your trusted adviser and strategic partner, we bring top talent and grow your company by matching skills, chemistry AND motivation.
With the right people, you can accomplish almost anything. Let us help you build your company today!
"WHERE OUTSTANDING ABILITY MEETS EXCEPTIONAL OPPORTUNITY"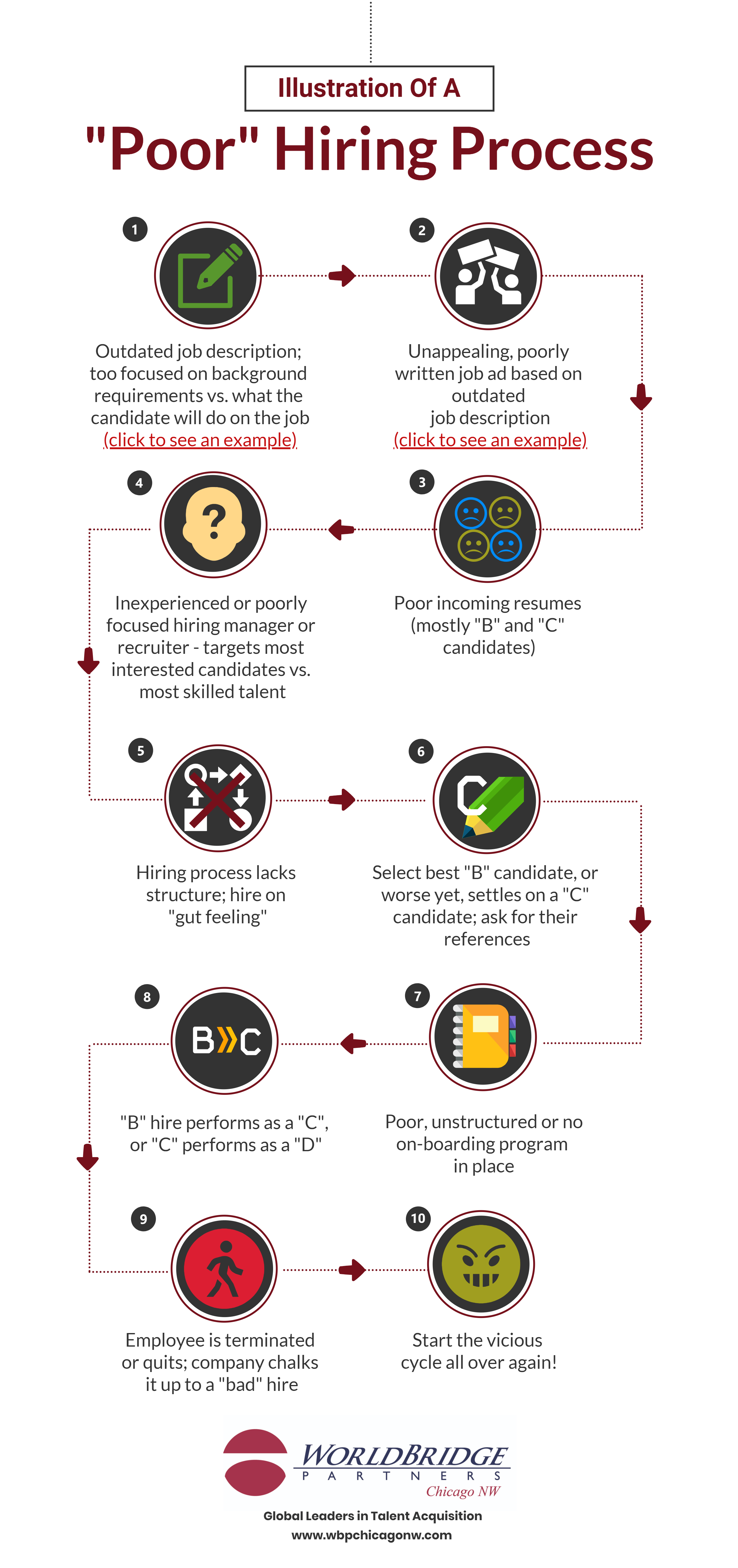 Search Process
"The WorldBridge Way" 10 Step
1. Defining Your Needs
Prior to the search, we obtain a complete needs analysis profile of the position description, key performance objectives, the qualifications of the ideal candidate, and the unique culture of your organization.
From this, a Position Profile of the job and ideal candidate is developed, including a compelling narrative about your company history & culture and why someone would be motivated to work for your firm. We also include a bio on the hiring manager. You approve the document to you can be assured we are marketing your company accurately in the most positive light. This step provides a solid foundation to begin the search.
2. Strategy & Research
Using all the tools and resources at our command, we plan a customized search strategy to surface qualified impact players by:
Accessing our own WorldBridge Partners Chicago NW powerful database with over 125,000 candidates' relationships build over 20 years.
Deploying our specialized project team to surface employed candidates by strategically marketing into selected competitive companies and associated industries.
Our Research Division has invested in a special premium LinkedIn license that allows us to connect to all 500,000,000 profiles, (Wow, that a half billion people!), most are passive individuals who are happily employed & successful, who may not be actively looking to make a career change…Until they are contact by WorldBridge!
3. Interviews & Assessment
We conduct in-depth STAR interviews (Situation, Task, Action, Results) with candidates to determine if they have the necessary skills and accomplishments, a willingness to change careers, and if they have the right chemistry to fit with your organization's culture.
We further evaluate the most qualified candidates and provide custom Predictive Performance Assessments, which benchmark them with the ideal personality characteristics of the top employees of your firm – a process that can improve your selection process by as much as 80 percent!
4. Presentation of Candidates
Then we present 3-5 of the top, qualified talent to you, highlighting their accomplishments, work and income history, educational background, and potential compatibility match within your organization.
5. Interview
Next, we arrange interviews between you and the candidates anywhere in the world, often by Skype or Zoom.  For a Chicago opening, we can reserve our conference room so that you can interview several candidates on the same day, providing a superior benchmark for improved evaluation.
6. Preparation with the Client & Candidates
We prepare the candidates for their interviews by discussing your open position, your organization's needs, and review an agenda of who they will be speaking with. We also prepare you, highlighting the candidates' "hot buttons", while suggesting key behavior-based questions, from the Predictive Performance Assessment that will result in a more productive interview.
7. Debrief with the Client & Candidates
Immediately after the interview, we debrief the candidates to ascertain their interest in your position. We then contact you to exchange information on the candidates' feelings, your evaluation, and a mutual level of interest in moving forward. When appropriate, second and third interviews are set up.
8. Selection, Negotiation, 360° Reference Checks
Once you've made your final choice, we conduct and provide you with the results of our 15-point reference check (Bosses, Customers and Peers) and a background investigation including previous employment, education verification, criminal record, and driver's record.  Our experienced consultant presents the verbal offer to the candidate to facilitate agreement to the terms of the offer before a written offer is extended to clear up any last questions and assure an acceptance prior to the written offer.
9. Resignation & Counteroffer
Our search consultant educates the new hire on the pitfalls of a counteroffer and assists them in preparing for the exit interview, which includes a professional letter of resignation.
10. Client Satisfaction Survey & Follow-Up
After each search is completed, we ask you to assess the quality of our search process. Our communication will not end when the placement is made. We follow up with you and the new hire to help ensure a smooth adjustment and fast ramp up, while helping you build a strong and successful retention strategy with your new hire.
EXTRAORDINARY TALENT. DELIVERED.
Executive Recruiting Aligned with Your Goals
When it comes to recruiting true talent, there is no shortcut to success. But the right executive recruiter can uncover your specific needs and match the talent efficiently and effectively.
WorldBridge Partners has mastered the art and the science of efficiently recruiting for a variety of dynamic organizations. We connect you to candidates who are technically qualified and culturally matched for long-term success.
It is our mission to provide clients with extraordinary talent who will drive business strategy and goals, and ultimately expand business capabilities. We focus on the executive recruitment of mid-level through senior leadership professionals including:
Managers
Directors
Vice Presidents
Executive Leadership
Our experience is vast, and our geographic reach is global.  Our expert recruitment team leverages their deep industry roots to build connections with people who make an impact every day. Clients are never just limited to "available" candidates in the market – we seek out the best talent in the industry!  You know, the individuals who are technically skilled, culturally matched, and ready to hit the ground running.
"The WorldBridge Way" Advantage
Specialization. We have deep roots in each of the industries that we serve. We speak the language, know the challenges, and have the success records to prove our expertise.
Service Excellence. It is our passion and our commitment to exceed client expectations, not just with every search, but with every interaction.
Accuracy. Every candidate we present is positioned for alignment. The WorldBridge Partners executive recruiter team of 70+ have made more than 15,000 successful placements because we focus on more than just finding the right skills and experience – we match the person to the organization.
Proven Process. We don't limit clients to "available" candidates. WorldBridge deploys a proven, rigorous process to ensure our candidates exceed expectations. From in-depth needs analysis and culture assessment to 360-degree candidate profiles, we deliver top industry talent with the technical skills and personal attributes to quickly make an impact.
Efficiency. We promise never to waste our clients' time. Our methodologies, processes, expertise and deep industry roots allow us to deliver candidates quickly and efficiently.
Consultative Approach. WorldBridge Partners offers real solutions. We have long-standing relationships with our clients to help them overcome their challenges and achieve their goals, navigating the rapid pace of change that challenges so many organizations.
Reach out to WorldBridge to learn more about customizing an executive search that targets the best talent in your industry.
Ready to Find Exceptional Talent quickly?