IT Software & Services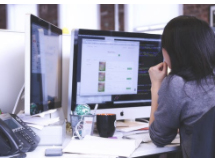 One of the most diverse and ever-changing specialties is Information Technology Software & Services (IT Software). We've worked with small, medium, & F500 companies globally and nationwide, to help them grow their business by supplying top talent. We use our passion and industry expertise to positively change lives and impact businesses.
The field of IT is extensive (100,000 companies). Professionals in this space perform a variety of duties in many capacities, including working directly with software, consulting, or professional services. These US IT Software companies provide the majority of the world's packaged and custom software solutions. This industry employs about 2 million highly-educated (at least a Bachelor's degree) employees. These highly-educated employees are often responsible for innovation, which is central to IT Software & Services development. This innovation leads to new products, ideas, and more innovation, so job growth continues to expand. In fact, job opportunities related to IT Software are expected to grow at a higher rate than the average for all other occupations. Not surprisingly, many of tomorrow's jobs don't even exist today.
At WorldBridge, we are continuously growing and optimizing our top talent networks within these arenas so we are ready to assist you with your future. Where ever it may take you.
IT Softwares & Services Company Functions We Place:
CEO/President
CIO/CTO/CFO
VP of Sales & Marketing
Sales Representative & Account Execs
Pre-Sales/Sales Engineers
C++ Software Developers
Senior Database Administrator
SQL Developer
Strategic Account Manager
Other Technical positions

Statistics provided by:
https://www.selectusa.gov/software-and-information-technology-services-industry-united-states
https://www.bls.gov/ooh/computer-and-information-technology/software-developers.htm